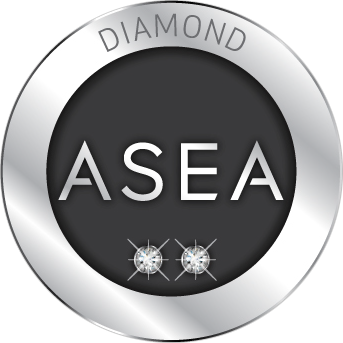 Craig Lindner
ASEA Double Diamond Executive
Craig Lindner was born, raised, and now lives on the big island of Hawaii. A custom home builder and real estate broker by profession, Craig has weathered the storms of being involved in both the real estate and construction industries in Hawaii. For him, ASEA is a solid foundation because he knows that his returns will equal or exceed his efforts. More importantly, Craig knows that with ASEA, his ability to help others is magnified.
Living on the beautiful island of Hawaii is a dream, come true; however, living in a place that's a prime tourist destination also creates a unique economic climate with its own set of challenges. "We're isolated on a little island and the only way to generate enough income is to go out of state or to work more than one job," says Craig.
For 20 years, he was a custom home builder and real estate broker. "I worked too much, drank too much, slept too little, ate poorly, and didn't enjoy my work or the people I was working with. It didn't seem like there was any way out," he says. For those 20 years, Craig was in a cycle—he would build a house, sell it, and then have to start over again. "Then the housing market changed and we couldn't get loans or lines of credit, and mortgages were impossible to get," he adds.
That's when everything began to change for Craig. He was at a materials supply store and the store representative, who was a friend of his, told him about a new product. "I had never seen her that excited about anything," he says. "She gave me a bottle of ASEA and I signed up." After just three weeks, Craig noticed improvements in his health. That's when he got serious about the business potential of ASEA.
In November 2009, he and a group of his colleagues flew in and met with ASEA Founders Verdis, Jim, and Gary. And although Craig's initial draw to ASEA was based on his experience with the product, his decision to become a business builder was rock solid after meeting with the Founders. "They shared their vision with us and I knew that I had the chance to get in at the starting gates with this company. This meant there would be growing pains, but it's also the most rewarding time," he adds.
Craig returned to Hawaii and began sharing ASEA with others. "The great thing about living in Hawaii is that we're a tight community and everyone here has connections to friends and family on the mainland or other parts of the world," he says. Those connections are strong and helped Craig to reach out to his own community and beyond. In February 2010, Craig and his team opened an ASEA training center in Hilo for their weekly meetings. He says, "We also got involved locally by having booths at concerts and fairs and participating in the walks for cancer awareness."
As Craig focused his efforts and time on helping others with their health and new ASEA businesses, he noticed something—his own life was transforming. The changes for good in Craig's life have created a ripple effect throughout his entire family, and for that reason, he affectionately calls ASEA hope in a bottle. "Life before ASEA wasn't too good. Now my life has completely changed—there's no way to explain it. I have total time freedom, I met a good woman, I have good relationships with my family members, and many of them are in the business now."
When Craig's Dad was sick, he was able to go home and spend six weeks with him before he passed away, all while his ASEA business continued to grow. "There's no way I could have ever been able to do that when I was building homes. I'm just so grateful!" Craig adds, "I've always wanted to be a part of something where I could make a difference, and now I can with ASEA. I never had that opportunity with real estate. You sell a house, you help one family. You help people with ASEA, you help a community. It makes a big difference!"
ASEA's business model of helping others is an environment in which Craig thrives, and he is thankful for the mentoring he received from his upline leader, Paul Taira. "Paul has traveled with me to help me build my business and he has taught me a lot about network marketing and health. I've gone from drinking too much and eating poorly to now being conscious about my habits and I've lost 50 pounds!" Craig also appreciates the training and focus on personal development that ASEA has provided him. "Reading the book, The Anatomy of Peace, was a big deal for me because it allowed me to negotiate my way out of a partnership of 20 years and get to where I am now. I've discovered that life is a lot of fun if you don't make yourself miserable and don't get in your own way."
Now Craig's ambition is to help others to experience the freedom and happiness that comes from increased health, wellness, and a solid income stream from ASEA. He and ASEA leader Merle Lam are working with a local preacher to help single moms build a successful income. "We have set up a training center and a store at the church so when the women bring their children in for preschool, they have the opportunity to be trained and work in the store sharing ASEA with others." He continues, "With this product and technology, I can teach my team that they can reach people all over the world."
For Craig, telling others about ASEA can be summed up in three words—drink, care, share. "If you drink ASEA and care about people, then you'll start sharing it with them. If you don't drink it, then you have nothing to begin with. Everyone can recommend their favorite restaurant; this is the same thing." Craig also tells his team members, "Don't ever quit! We were at a concert the other night and we saw people who were 10 feet away from enjoying a free concert because they got tired and stopped walking. It's the same with this business—people quit too soon, oftentimes when they're only one or two people away from complete freedom."
With ASEA, this Double Diamond Executive is finally able to build something he is excited about putting his whole heart into—a future of helping others build a solid foundation with ASEA. "My outlook has never been better," he exclaims. "I have experienced more happiness, freedom, and personal growth in these last three years than I ever imagined. ASEA has transformed my life, and to see how ASEA is transforming the lives of others is a really emotionally rewarding thing. It's a great celebration!"